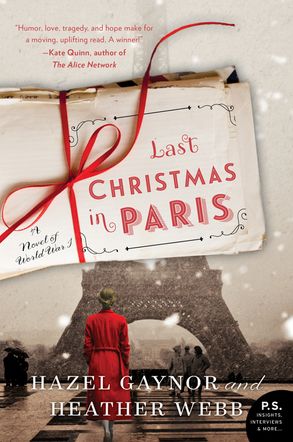 I love both of these authors individually, so you can image my excitement when I saw that they had collaborated on a novel of WWI! Told primarily through correspondence and telegrams, Last Christmas in Paris tells the story of Evie and Thomas, family friends who have grown up together and who fall in love through their letters during the war.
Moving back in forth from the present (well, late 1960's) to the war, this is a touching story that has a lot of detail and information in it. It makes you ponder the power of the written word and I wonder if a heartfelt letter is truly a thing of the past. It certainly is in danger of extinction!
Here's the overview from Amazon:
New York Times bestselling author Hazel Gaynor has joined with Heather Webb to create this unforgettably romantic novel of the Great War.
August 1914. England is at war. As Evie Elliott watches her brother, Will, and his best friend, Thomas Harding, depart for the front, she believes—as everyone does—that it will be over by Christmas, when the trio plan to celebrate the holiday among the romantic cafes of Paris.
But as history tells us, it all happened so differently…
Evie and Thomas experience a very different war. Frustrated by life as a privileged young lady, Evie longs to play a greater part in the conflict—but how?—and as Thomas struggles with the unimaginable realities of war he also faces personal battles back home where War Office regulations on press reporting cause trouble at his father's newspaper business. Through their letters, Evie and Thomas share their greatest hopes and fears—and grow ever fonder from afar. Can love flourish amid the horror of the First World War, or will fate intervene?
Christmas 1968. With failing health, Thomas returns to Paris—a cherished packet of letters in hand—determined to lay to rest the ghosts of his past. But one final letter is waiting for him…
*********************************************************
Thank you for my review copy from the publisher via Edelweiss! Highly recommended for this holiday season — and beyond!
I also had the distinct opportunity of seeing Heather and Hazel speak at the Concord Bookshop recently for a delightful evening. I love it when authors have the chance to make their work come alive.